Cat6 UTP Cable - Commscope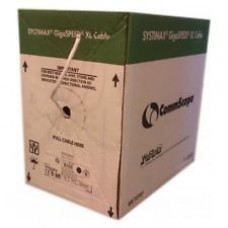 SYSTIMAX®
GigaSPEED®
XL Solution
The SYSTIMAX GigaSPEED XL Solution offers
performance far beyond Category 6 standards,
cost-effective design innovations and reliability so
robust it can help make network downtime a thing
of the past.
Built on the SYSTIMAX 360TM design philosophy for
next-generation infrastructure, the GigaSPEED XL
Solution is truly a network without limits.
Engineered with customers in mind, the solution
couples design freedom, speed and intelligence
in an easy to use package. Customers can build
networks with guaranteed performance that meet
their individual configuration needs and have the
option to deploy intelligence upfront or whenever
they desire. By integrating CommScope's
industry-leading network intelligence solution,
customers have complete visibility and control
of their physical layer infrastructure now or in
the future with a simple field upgrade
Write a review
Your Name:
Your Review:
Note: HTML is not translated!
Rating:
Bad
Good
Enter the code in the box below: