NVR SYSTEMS

NETWORK VIDEO RECORDER
A Network Video Recorder (NVR) is a software program /Hardware that records video in a digital format to a disk drive, USB flash drive, SD memory card or other mass storage device. NVRs are similar to DVRs but with several distinct differences. NVRs take video input over a network, as opposed to directly connecting to the NVR via a video capture card or tuner. The main distinction being that video on a DVR is encoded and processed at the DVR, while video on an NVR is encoded and processed at the camera, and streamed to the NVR for storage or remote viewing.
SAMSUNG 16CH NVR (SRN-1670D) The SRN-1670D are high-quality, powerful performance network vid..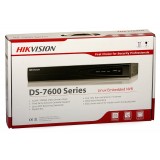 Hikvision DS-7604NI-SE is a modern IP network video recorder capable of monitoring, recording..
SAMSUNG 4 CHANNEL NVR (SRN-472S) The SRN-472S is ideal for those with limited experience of I..
Showing 1 to 3 of 3 (1 Pages)